Welcome to St. John's Episcopal Church
St. John's offers worship services to meet everyone's needs. There are services with traditional music, contemporary music, and without music. Click here for Worship Times
Joining our Parish Community
St. John's Newcomer Orientations are held the first Sunday of every month in Clark House. At these gatherings, interested members join clergy, vestry, and members of our various commissions in conversations about St. John's, its programs, and ways to get involved. We look forward to welcoming you to St. John's. Please email to request membership information about the parish.
Holy Communion
Everyone is welcome to come forward to receive Communion or a Blessing. Either standing or kneeling at the altar rail, receive the bread with open hands extended. Consecrated gluten free wafers are available. Please ask the clergy. When receiving the wine, you may sip from the chalice or intinct (dip) your bread in the wine.
To receive a Blessing instead of Communion, cross your hands across your chest. The minister will affirm God's blessing on you.
If you have not been baptized, we warmly encourage you to speak to a member of the clergy about this important sacramental step in your journey of faith.
For Families with Children
Children are welcome at all worship services at St. John's.
While the majority of our services are traditional in nature, the 10:15 a.m. Sunday service held in All Saints Hall offers a contemporary style of worship, including a sermon for children. An ensemble of keyboard, guitars, and drums provide music, and all songs and prayers are projected onto large screens for everyone's viewing. Our contemporary service tends to be more casual yet still expresses the worship of the Episcopal tradition.
Families with young children may find this service in All Saints Hall more fitting to their needs. Children happily worship with us in both settings, however, and are the life of our future. We invite you to discover what's most appropriate for your family.

For Families with infants and toddlers
Supervised Nursery – At St. John's, wherever and whenever we gather in God's name, every child is welcome in worship.
If parents prefer, there is Sunday supervised nursery care for infants and toddlers under three years of age. Drop-In Care is for the 10:15 a.m. worship services and the 9:00 a.m. Faith Formation hour, in CME room 141 starting at 8:50 a.m. First time visitors should register at the Nursery. On Christmas Eve, New Year, Easter, Memorial Day, Labor Day and One Worship Sunday no supervised nursery service is available.
Soft Space is always available with no age restriction when visiting the Historic Church. It's downstairs; anyone may follow worship through the use of an audio system and screen. Families are welcome to take a quiet break during the service in this space, or stay downstairs for as much of the worship as preferred.
Why St. John's? St. John's is the perfect place for you if:
. . . your family members grew up in different denominations. If you grew up in the Episcopal Church, you'll find a familiar setting, but if you did not grow up in the Episcopal Church, you're not alone. 64% of our members grew up in other denominations. We welcome everyone who comes through our doors and hope you find a spiritual home here.

. . . you want to be a part of a church that encourages both spiritual growth and intellectual discussion. We provide Sunday and weekday bible studies, discussions, and classes during Sunday education hour and seasonal series with classes for all ages and interests.

. . . you have a young family and seek a nurturing program for children. Our Sunday School teaches over 350 children, ages three to 10. A nursery is available for three and under.
. . . your family has teens and young adults. Our Journey to Adulthood program for teens and preteens is one of the largest Episcopal programs in the country, with over 150 teens enrolled. It emphasizes negotiating the adult world with the help of adult mentors. Studies have shown how important it is to have adults other than parents in teens' lives. Our College Connections program connects 68 college students with 22 adults, keeping college students in touch with their faith-based support network.
. . . you wish to reach beyond your immediate community and help others in need. Our outreach efforts extend from Howard County to Kenya and provide opportunities for children, teens, and adults. One parishioner might help with a local homeless shelters—another might assist ongoing recovery efforts in Haiti.
. . . you wish to help others or receive care and support during life's difficult times. Pastoral care encompasses everything from meals delivery to cancer support.
. . . you want the option of attending different kinds of services on Sunday or attending a Saturday service. Some love the beauty of worship in our historic church—others enjoy the more casual atmosphere of the contemporary worship service in All Saints Hall. Saturday is another option for those who find it fits their busy schedules. You can choose your manner of worship at St. John's.
. . . you want to be a catalyst and part of St. John's mission to promote social justice, heal hearts and minds, develop resiliency and character and practice mercy, forgiveness and generosity.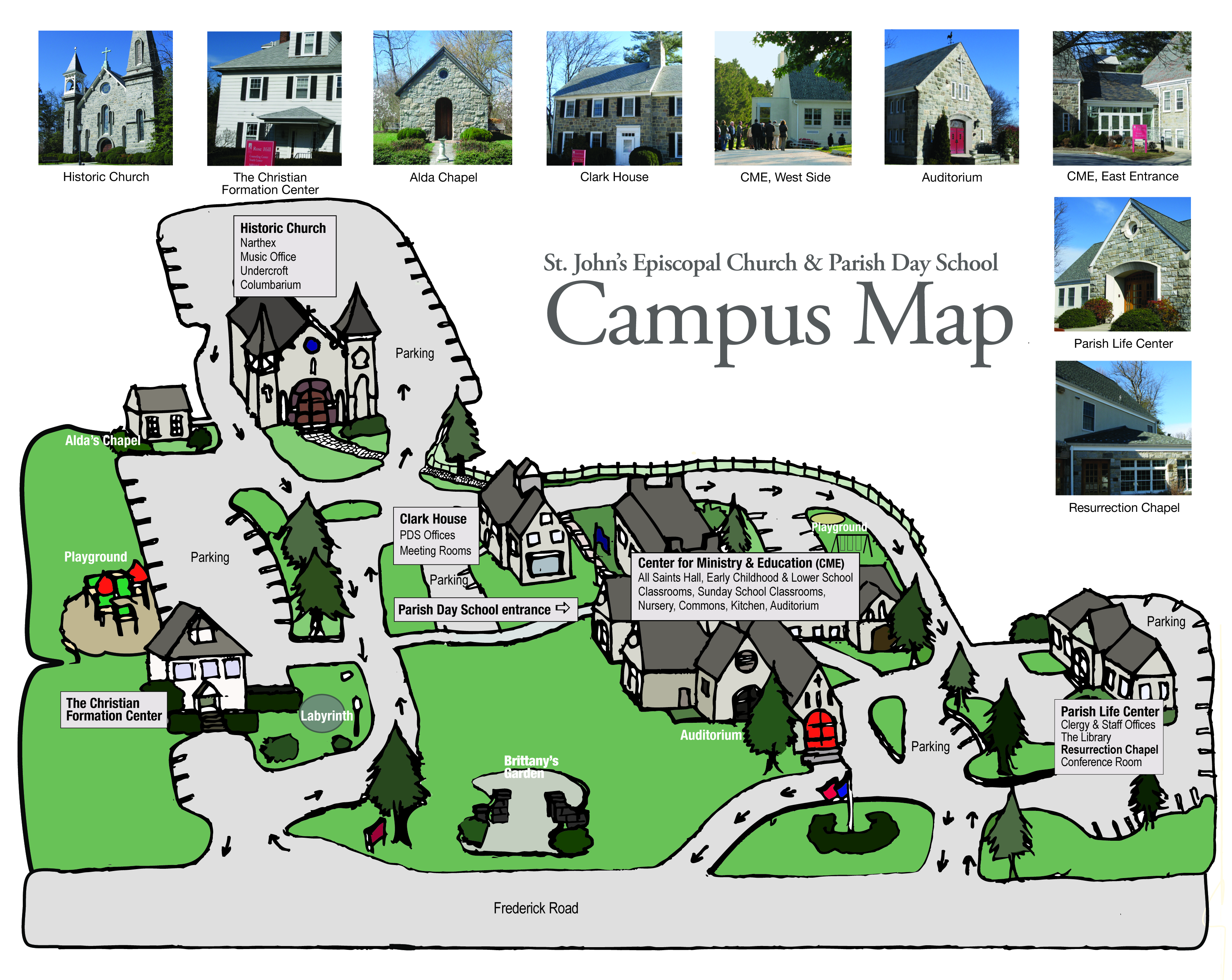 Getting around THe Campus
Access to St. John's Church off of Frederick Road near the St. John's Lane intersection. The eastern most entrance (closest to St. John's Lane) takes to you parking for the All Saints Hall (Contemporary Worship) along with access to the Parish Life Center (Clergy and Staff offices) and Resurrection Chapel (location for the 5pm Saturday worship, Wednesday 6pm Centering Prayer and Thursday morning 7am worship. The west campus entrance takes you to the Historic Church and convenient parking for worship in that location as well as access to the Clark House (Parish Day School Offices and and meeting rooms), the CME (Center for Ministry and Education - St. John's Parish Day School - also the location of All Saints Hall and the Auditorium)
St. John's Landmarks
St. John's 11 acre campus is home to a walking labyrinth, Brittany's Garden, Alda's Chapel and as well as our Historic Church designed by Norris Gibson Starkweather of New York City, a leading ecclesiastical architect. Built of hard Howard County Granite, the "New Church", planned in 1859, included a wooden arched belfry with a stone base and, most magnificently, a solid stone spire. The original design called for it to reach 89 feet into the sky, but the stone was so heavy, it had to be limited to 83 feet. St. John's is one of only 12 churches in the country with a solid stone spiral, making it a distinctive landmark.